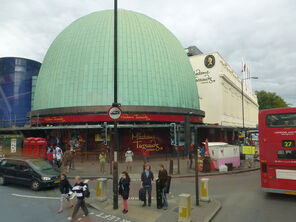 Madame Tussauds
(UK /tuˈsɔːdz/, US /tuːˈsoʊz/; the family themselves pronounce it /ˈtuːsoʊ/) is a wax museum in London with branches in a number of major cities. It was founded by wax sculptor Marie Tussaud. It used to be known as "Madame Tussaud's"; the apostrophe is no longer used. Madame Tussauds is a major tourist attraction in London, displaying waxworks of famous people.
Known Visitors
Trivia
Ad blocker interference detected!
Wikia is a free-to-use site that makes money from advertising. We have a modified experience for viewers using ad blockers

Wikia is not accessible if you've made further modifications. Remove the custom ad blocker rule(s) and the page will load as expected.